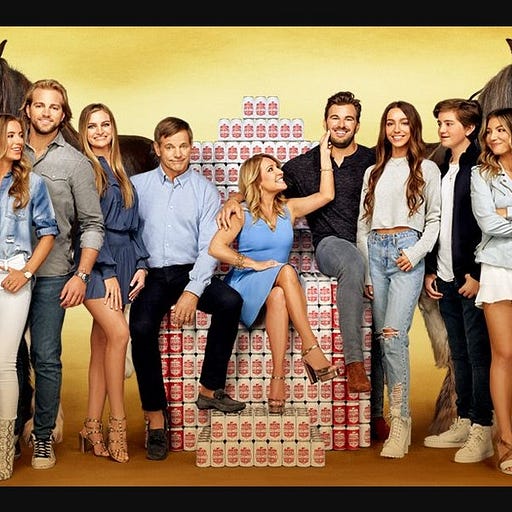 Mar 21, 2021 • 49M
Ain't Nothin' But a Family Thing: Ep 1
An Heir Mail X Fingers Production
Meredith Haggerty (Heir Mail) and Dave Infante (Fingers) explore the wealth, history, and family drama of the world's biggest beverage dynasties, from the Busches to the Bronfmans—and beyond.
Hello! You're reading HeirMail [well, kind of], the only newsletter to come from me (hi) setting a Google Alert for the word "heiress" and then just writing about whatever pops up.
Hello Heir Mail subscribers, I sure do have no real idea of how this is going to work, but let's dive in!
This week, I have for you the pilot episode of a new heir-y podcast from me and Dave Infante, who runs Fingers. If you don't already subscribe to Fingers, you should, it is a seriously wonderful, funny, incisive newsletter about drinking culture and the alcohol business.
You might have noticed that booze heiresses come up kind of a lot on here, probably three-way-tied for first with media scions and Australian ore dynasties (the big three industries, really). There's the Keroche beer family, the Bronfmans of both Seagram's and NXIVM fame, the Stoli heiress who did donuts in her fancy London neighborhood. It's like, every week, another one!
"Ain't Nothin' But a Family Thing" combines the interests of Fingers and Heir Mail, digging deep on alcohol heirs. We're starting with a look at the Busches (as in Anheuser-) and the MTV reality series Busch Family Brewed. Plus, it give me a chance to talk to Dave, who is great and you will enjoy so much. We think it's a pretty funny, informative trip through some of the family's history, as well as through this terrible TV show.
That's Our Busch(es) |
MTV
Please, give it a listen, let us know what you think!
Separately, if you're an Apple News subscriber, you can read my feature on the inherited wealth of the non-super-wealthy, and it's impact, on The Highlight now. If you're not, and let's face who is, it's going out wide on Tuesday on Vox.com, and I would appreciate you reading it so very much.
I'm giving you an abbreviated version of Heir Mail this week which, because I feel like it, I'm going to call:
Heir-round the World in 60 Seconds
British Vogue has five fun facts about Gucci murder wife and future Lady Gaga Oscar bait Patrizia Reggiani, from which you'll learn the saying: "I'd rather cry in a Rolls Royce than laugh on a bicycle."
Another murdered heiress; another shit-ass killer boyfriend. The facts: Suzy Healey, 39; daughter of a "kitchen tycoon;" lived in Hull, East Yorkshire, England; strangled by her unemployed valet ex-fiance in 2005.
Water Rage Heiress Cho Hyun-min BLOCKED from the board of her family company.
Paris Hilton won't let us escape 2006 — or we won't let her escape 2006 — part 392342. Also she's the face of Lanvin now. Sure, whatever. I'm leaving off so much Paris shit, let me know if you actually care.
Going pure headline here: "Pools heiress Dowager Lady Grantchester leaves miniature portrait collection to Compton Verney," as per the Stratford-upon-Avon Herald. What else is there to say!!
Australian chicken heiress Jessica Ingraham has a wedding that's smaller than her first wedding, which was a whole thing, I guess. Jessica had to promote a bridesmaid to maid-of-honor after a falling out with original MOH: Roxy Jacenko, of Francesca Packer Bareham's ex-bestie fame. Roxy WYD!!!
Salma Hayek, billionaire spouse and arguable bold-face heiress but leaving her off for now, does not have a "hidden daughter." She has a step-daughter, Mathilde Pinault.
Gristedes' supermarkets' own Andrea Catsimatidis brings this New York Post story to our attention, but she's really incidental: in it, a retired lawyer gets thrown out of a GOP fundraiser in a headlock "after apparently becoming bombed and belligerent." This man is 67 years old! Cool politics, cool choices! ("He said he "did not recall" being removed from Bice in a headlock.")